Congratulations on your decision to start your career as a forklift driver. Getting your forklift licence is a great way to not only improve your job prospects but will also ensure you are operating heavy machinery in a safe manner too. Health and safety requires that you under go training and this site will guide you through the process of getting your certification.
Forklift Drivers
There is a very high demand for forklift truck operators in the United Kingdom and demand has never been higher as there is and has always been a strong need for forklift operators playing a crucial role in the smooth running of depots, deliveries, warehouses, yards and ports/airports. Without forklift drivers good wouldn't be loaded, unloaded, moved, stored, and much more.
Forklift Driver Job Description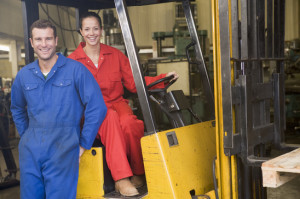 Although job descriptions may vary depending on the company you are working for typically the job will entail the following:
Operating Forklift Trucks – Loading and unloading goods from deliveries as well as storing goods in difficult to reach areas of warehouses etc.
Inspections – This involves checking the forklift trucks are in good working order and making sure any loads are safe and secure and this should be conducted every day or before every shift.
Creating Pallets – You may have to create pallets of materials and good prior to delivery which will involve driving your forklift around the depot and completing the order forms. You may also have to tidy and stack empty pallets too.
Other Tasks – You may have to use other equipment such as pump trucks, telescopic handlers and counter-balance trucks.
Forklift Licence Training
Technically there is no such thing as a forklift 'licence' but a lot of the time it is commonly referred to as that. Statistics show that there are an average 8000 forklift accidents each year with 12 of them proving fatal and as such UK Health & Safety requires you get attend forklift courses and training to ensure you are operating equipment safely and not putting yourself and others at risk.
Any accidents can prove costly, not only on a personal level if you get injured, but can also mean damage to forklift trucks, building, and the goods being handled, and so it's good to get this training on your CV but it also means that your employer may be happy to pay for this to comply with legislation.
There are four different levels of training ranging from complete novice to refresher with costs varying depending on the level required and how many people are on the course. This training is open to anyone over the age of 16 and take between 1 and 5 days to complete depending on experience and how many are in the training group. Any training and licensing must be conducted by accredited companies so when choosing your training provider ensure they are accredited by any of the following bodies:
Forklift Licence Cost
The cost of getting your licence and training varies depending on your previous experience, how many are being trained per session, as wel las your geographical local but you are looking at anywhere from £100 for refresher training to £750 for complete novices. This may be a cost you have to cover yourself but there is also a requirement on behalf of employers to train their staff so you might be able to get this cost covered by your place of work.
Prices shown are only rough guides so please do your homework before booking onto a course.
Wages and Salary
The average rate for a Forklift Driver is £9.49 per hour pay for forklift drivers according to PayScale.com (correct Nov 2021) but this will increase depending on experience and your knowledge of different types of trucks and different loads heading up to £24,000 per year. The lower scale of pay can be £8.03 p/h with the top scale earning £13.96 an hour.
If you have plenty of experience then salaries of £35,000 are not unheard of especially in London. There is always plenty of demand for forklift truck operators and it could be anywhere from Tesco to Heathrow as drivers are always needed and the work will always be there once you are qualified. You can see a selection of jobs here.